page updated
15 October 2010
GD040 Dundalk to Belfast
Bessbrook (Newry), 26 October 2009
The first station here, 69m20c from Dublin, opened in 1855 as Newry Main Line; changing its name to Bessbrook & Newry Main Line 11 years later. From 1880 until closure in 1942 it was simply Bessbrook. A basic station arose phoenix like on the site in 1984 and this was replaced by a new station that opened on 7 September 2009.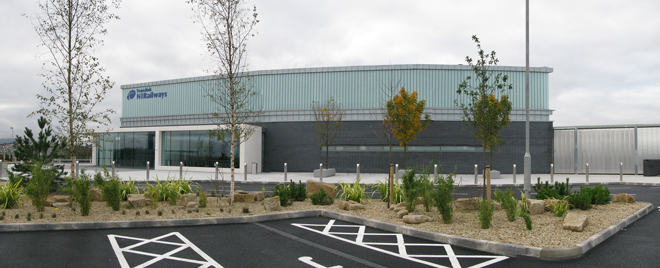 Craigmore Viaduct, 26 October 2009
Just north of Bessbrook, the 18 arch viaduct extends from 69m40c to 69m58c from Dublin.


Great Victoria Street, 27 October 2009
The present station, 112m44c from Dublin, was opened in 1995. It occupies the area beyond the original station concourse.